Parenting a picky eater or wrangling an extremely active brood? Guarantee that your kids are getting healthy organic protein and complete nutrition while on-the-go!
Making sure your kids get the nutrition they need can be quite the task, especially when hectic schedules and mealtime battles are the norm. Orgain® Kids organic nutritional shakes are designed with just that in mind. Made from a variety of organic protein plus fruits and veggies, Orgain Kids is a great, healthy way to fill nutritional gaps for children with selective palates and make sure active kids are nutritionally covered!
Perfect For:
Picky Eaters
Active Kids
Packing in lunch boxes
Meals on-the-go
Extra organic protein and nourishment for kids ages 2-13
The Tasty Kid-Friendly Shakes Boast These Features:
Available in yummy Chocolate, Vanilla, and Strawberry flavors (perfect for the pickiest eaters)
USDA Certified Organic
Made with 10 organic fruits and veggies*
8 grams of organic protein
23 vitamins and minerals
Gluten free
NO corn syrup, saturated fat, hormones, or antibiotics
How Do Orgain Kids Shakes Stack Up?: 
Orgain Kids shakes are vastly different from other nutritional shakes on the market. Parents might be surprised to learn that most children's nutritional shakes sold in the United States contain high levels of sugar from high-fructose corn syrup as well as artificial sweeteners, artificial colors, preservatives, and genetically modified ingredients. In contrast, Orgain Kids only uses high quality USDA Organic, Grass-Fed Whey and Milk Protein Concentrates. Not only are all Orgain products USDA-certified Organic, but they're also Gluten Free, Soy Free, Non-GMO, and free of all artificial colors, flavors and preservatives. Sugar content is also limited to ensure the healthiest product possible. This informative chart provides great points of comparison for health-conscious parents to review.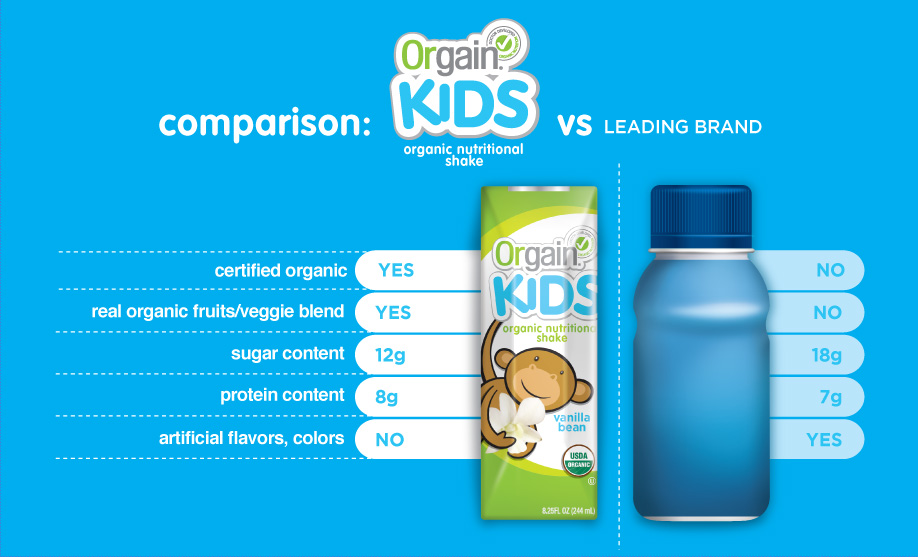 Where can I find Orgain Kids Shakes?
Orgain's great-tasting, wholesome organic nutrition products are available through Orgain's convenient online store. To order from the online store and have Orgain products delivered directly to you, click here. Orgain Kids is also available via retail locations nationwide and many online retailers. Click the image below for the full list of in-store retailers near you!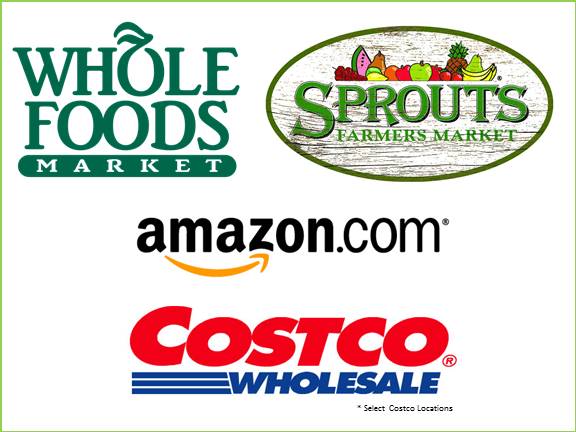 *Orgain is not a replacement for fruits and veggies in one's diet.